poly(l-lactide) cas 33135-50-1
Chemical Name:Poly(L-lactide)
CAS No.: 33135-50-1
Molecular Formula:(C6H8O4)n
Molecular Weight:144.12532
Appearance:White or yellow particles
描述
Poly(L-lactide)Details
Chemical Name:Poly(L-lactide)
CAS No.: 33135-50-1
Molecular Formula:(C6H8O4)n
Molecular Weight:144.12532
MolecularStructure: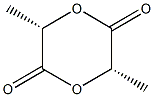 Appearance:White or yellow particles
Poly(L-lactide)Typical Properties
Poly(L-lactide)Usage
1.From racemic poly lactic acid made from biological products good compatibility and for drug delivery carrier – the drug entrapped in the polymer matrix form microspheres or particles;
2.FDA approved available for injection with microcapsules and microspheres and implants and corrosion inhibitor of accessories and internal fixation device;
3.Used for cell culture of tissue engineering porous foam scaffold; bone fixed or tissue repair materials for tissue engineering; surgical suture; implants and clamp; artificial skin, artificial blood vessel; ophthalmic implant materials retina.
Poly(L-lactide)Packaging and Shipping
Packing: 1kg/bag or 25kg/drum
Poly(L-lactide)Storage
1.According to biodegradable materials,in order to ensure product quality,a special package to avoid water is necessary.
2.We filled high purity dry nitrogen in the polyethylene bag for hot plastic, the outer lining of thermal plastic foil pouch, built-in desiccant. All the packing is done in a highly clean room.
3.All of the polymers should be stored at 0 ° C. Before opening, the product should be allowed to adjust to room temperature to avoid condensation polymer concentrate combined with moisture in the bag. To re-opened after the product packaging sealing, must be of high purity dry nitrogen filled to prevent moisture generated in the bag.